About Sherm Cohen and Reviews of The Storyboard Secrets Course
Sherm Cohen is a cartoonist, writer and storyboard artist. He got his start in animation at Nickelodeon on The Ren and Stimpy Show as a character layout artist, followed by a three-year stint on Hey Arnold as storyboard artist and director.
In early 1998, Sherm Cohen was invited by SpongeBob's creator Steve Hillenburg to be part of the original SpongeBob SquarePants crew as a writer, storyboard artist and director. After working as Lead Storyboard Artist on the SpongeBob SquarePants Movie, Sherm created his first book, "Cartooning: Designing Characters," published by Walter Foster Publications.
For the last few years, he has been writing and drawing boards for Cartoon Network, for Nickelodeon's "The Mighty B," and the first two seasons of "Phineas and Ferb" at Walt Disney Studios. Sherm is currently working as storyboard artist and storyboard supervisor on Disney's "Fish Hooks.
In 2011, Sherm received an Emmy nomination (Best Director) for his work as director and storyboard supervisor on Disney's "Kick Buttowski."
After teaching storyboarding classes at Nickelodeon and the Entertainment Art Academy, Sherm began offering storyboarding classes online and through his first DVD, "Storyboard Elements." In 2011, Sherm expanded his 13-week class and created the most comprehensive course on how to storyboard,  "Storyboard Secrets."
The Storyboard Secrets course has been used by artists all over the world, as well as animation studios and colleges and universities including:
CCAD: The Columbus College of Art and Design
SVA: The School of Visual Arts
SCAD: The Savannah College of Art and Design
Disney Creative Resource Center
SAW: The Sequential Artists Workshop
"I've learned some of these storyboard techniques from various directors
over the years only to find out that they learned them from Sherm Cohen.

This guy really knows his stuff!"

— Fred Osmond
Storyboard Artist – Penguins of Madagascar
Assistant Director – El Tigre
http://cartoonsandcaricatures.blogspot.com/

————————————————————

Hey Sherm!

Before time slips by I just wanted to thank you for promptly sending out the DVDS! You rock! The examples you show thus far are super clear and easy to understand.

Most of my questions have been answered so far and I'm only on Disc 5!!!!
I'm making a 3 minute film on my own and it's been a battle every inch of the way. Your discs have saved me, man. I was moving in slow motion. Thanks again!"

— Robert Dress
http://robertdress.blogspot.com/

——————————————–

"Started my first full time storyboarding gig this week. Your storyboard box-set is coming in super handy btw! Sooo glad I picked it up."

Emmy-Award winning designer and storyboard artist Steve Lambe

——————————–

"They're fantastic lessons– it was like taking a semester class back at art school! It really helped clear up some of my questions that I run into on a day-to-day basis as well as clear up some concerns I have about storyboarding if I move up in the future."

Chris Houghton – Storyboard Revision Artist on Fanboy and Chum Chum

———————————

Hi Sherm,

Just wanted to take a minute and say thank you for the great job you did teaching on your DVD set. Excellent resource!

Martin Lauzon
3D team leader – CG supervisor – Art Direction at Vision Globale
EFX Supervisor at Omation "The Barnyard"

————————————

Great DVD's — I'm on my 3rd one! I've been doing a DVD a week! taking notes and drawing along with you! Awesome DVD's — clear and simple! You don't beat around the Bush!  Sherm you are "The Godfather of Storyboards"  now we just have to get the Academy Awards to make a Storyboard Category!  Thank you for a great class — you are helping the industry! Cant wait to start Acting and Posing! Well worth my money Sherm!!!!

Robert Castillo — Storyboard Artist: The Sopranos, Iron Man: Armored Adventures

————————————–

The cargo was received in a timely manner and has been already been throughly viewed (almost).   Your lectures were VERY useful – not only for what I didn't know, but to confirm what I did.  (I've written and drawn comic books for decades, and wanted to know how the skills overlapped, and what I needed to brush up on.)
… I LOVED it.

Bill Vallely – Writer/Artist for Marvel, DC, Valiant, Archie and Harvey Comics

————————————-

"This course is amazing! in all my 17 years in animation I can honestly say I have never come across anything as informative and helpful to my career. No more stress, just fun storyboarding!

I found so much of this course to be invaluable, guiding me through areas of my work which confuse me no more….Yay!
In particular the DVD covering "Acting and Posing"- depicting characters emotion and their comunication through good gesturing;  knowing when to be economical by creative use of cutaways; reminding myself to keep advancing the story along.

Your Storyboard Secrets DVD set has proved invaluable. I feel my work has improved solely because of them… go Sherm!"

Viv Heath, Storyboard Artist, Timmy Time, Horrid Henry — Aardman Animation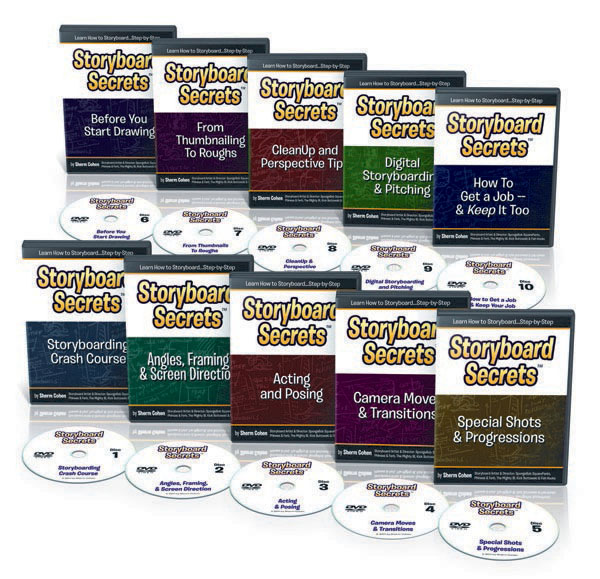 More information on the Storyboard Secrets 10-DVD Course at: